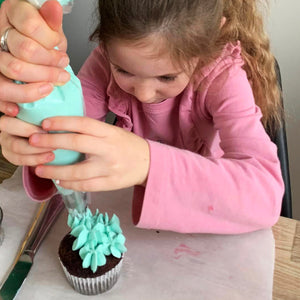 A cupcake decorating class specially for the little ones. 
1 hour of cupcake decorating fun. Participants will get to pipe buttercream and model fondant to create 4 of their very own cupcake masterpieces.
Class structure will be a tailored to the abilities of the participants with an emphasis on having fun and making something beautiful that tastes delicious. 
Class number will be small with no more than 6 in each class. 
With simplified designs, your little people will love this cupcake decorating class which is specially for them. 
You can either drop your child off and collect them at the end of the class, or you are welcome to stay and join in the fun.